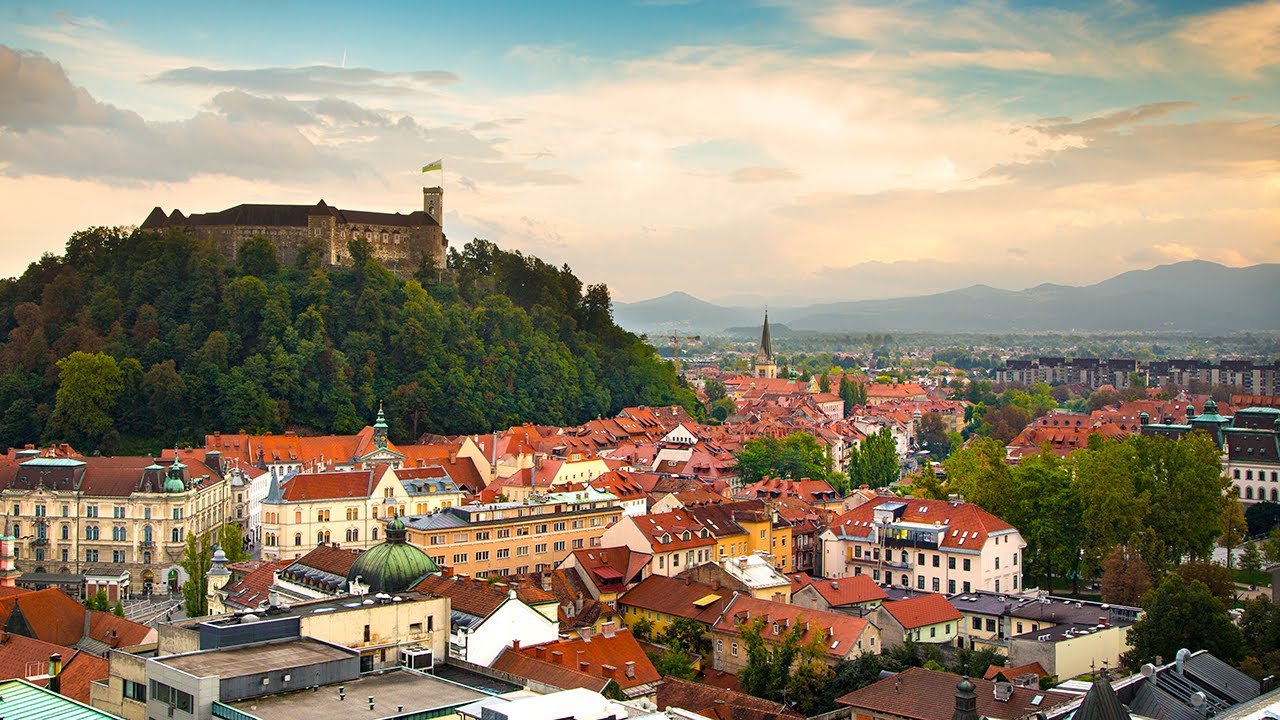 Ljubljana is the capital and the main political, economical  and cultural centre of Slovenia. A picturesque city full of romantic views, 'The beloved', halfway between Vienna and Venice, a great place to visit. Although you will not find world-renowned attractions here, still Slovenia's master of early-modern minimalist design, Jože Plečnik, beautified Ljubljana with magnificent buildings; attractive cities are often described as 'jewel boxes', but here it is a jewel that touches the soul.
Ljubljana has history, tradition, style, arts & culture, an atmosphere that is both Central European and Mediterranean all under the shadow of Ljubljana's medieval hilltop castle towering over its historical city centre and a calm river spanned by a series of beautiful bridges running right through it. It's a city with a medieval heart, a city of the Baroque and Art Nouveau, with a longstanding castle resting above it like a sleeping beauty.




By plane



The main international airport is Ljubljana Jože Pučnik Airport, which is set 25 km from Ljubljana. It is currently served by around 250 direct scheduled flights per week from all major hubs in Europe.



You can choose from a number of international airports close to Slovenia, depending where you are coming from.

The biggest airport with the most international flights is 243 km away, and is in Venice in Italy. You can fly to Venice from all over Europe, and also directly from North America (Montreal, Toronto, New York, Philadelphia, Atlanta), North Africa (Tunis, Casablanca) and Middle East (Dubai, Doha).



Trieste is another Italian airport (88 km), situated more or less on Slovenian border.



If you are travelling to Eastern Slovenia, the best solution is to fly to Zagreb (143 km) in Croatia.

During summer there are many flights also to Rijeka (115 km) and Pula (203 km) in Croatia.



In Austria, the closest airports to Slovenia are Klagenfurt (47 km), and Graz (113 km).

GoOpti – Low cost transfers from and to airports





If you travel to Slovenia or want to get from Ljubljana to Venice, Trieste, Vienna, Milano, Bologna, Munich or other cities, the GoOpti service may be useful. On their website you can book transfer services between Ljubljana and numerous airports and cities. Venice - Ljubljana can be bought from €14, Munich - Ljubljana from €32 and Trieste - Ljubljana from €10.



We recommend shuttle service by GoOpti that enables you to book adaptable low-cost transfers to airports and cities, which are instantly confirmed, 100% reliable and carried out by skilled drivers and clean modern vehicles. All transfers are guaranteed, confirmed, available 24/7, door-to-door (from airport directly to hotel). We recommend that you book tickets as soon as possible because of GoOpti dynamic pricing models.



You can enter Slovenia via one of the border crossings with Italy, Austria, Hungary or Croatia, or you can rent a car in one of our car rental agencies. Slovenia's highways are good and clearly signposted.



Ljubljana can be easily reached from all major European cities.

Public bus No. 28 operates between Ljubljana bus station and Ljubljana airport.

Departures from the airport

From Monday to Friday: 5.00, 6.05, 7.00, 8.00, 9.00, 10.00, 11.00, 12.00, 13.00, 14.00, 15.00, 16.00, 17.00, 18.00, 19.00, 20.00.

Saturdays, Sundays and holidays: 7.00, 10.00, 12.00, 14.00, 16.00, 18.00, 20.00.

Ljubljana Airport taxi and transfer service



There is much competition for customers among taxis and shuttles offering transfers to and from Ljubljana Airport. Since you can pay double the price when taking a taxi at the airport at first sight, it may be better to book one in advance, in particular when travelling together with colleagues. These private transfer services offer cheaper rates as well as fast and good quality service.



To enter Slovenia you need a relevant travel document. EU/EEA citizens do not necessarily need a passport, a valid identity card is sufficient. Participants from non EU/EEA countries wishing to enter the Republic of Slovenia need a valid passport, or a valid passport and a visa or residence permit, unless otherwise stipulated by law or international agreement. For more information on whether you need a visa to enter Slovenia, choose your country at the Ministry of Foreign Affairs website.



Useful Information for Visitors





Slovenia is located in the Central European time zone (CET/CEST), which covers most of Western/Central Continental Europe, except for the British Isles and Portugal.


Mains power supply is 230 V, 50 Hz, Schuko plugs. Visitors from the British Isles, North America, Australia, New Zealand and the Far East will need adaptors.


Tap water is safe to drink. Even more, the quality of tap water in Ljubljana is really high.


The national emergency number is 112.